hotels and apartments
sport and leisure
localities
information

Your search
Brunico / Bruneck: Hotels, B&B, Residence and holiday apartments
Brunico / Bruneck tourist information
restaurants: Wochtla Kuchl, Blitzburg, Amaten, Zum Hirschen
Brunico is a community of the autonomic province of Bolzano at an elevation of 835 m, and is the centre of the Val Pusteria (literally: valley of Pusteria) in respect of economy, geographical position and culture. Located at the foot of the famous Plan de Corones, surrounded by the beautiful Alpi dello Zillertal, Brunico is the ideal holiday destination. >>><<<
This charming small town, first mentioned in the year 1256 A.D., has an impressive history and, thanks to the numerous concerts and events, the magic of the past is definitely alive.
During a walk through the small streets of Brunico you will find a friendly atmosphere, and the historic centre still gives a medieval impression.
Not only the bishop-castle "Castle Bruneck" can be explored by art- and history fans, but also the Ethnological Museum of Teodone, the Municipal Museum of Graphics as well as further historic memorials.
365 days a year Brunico offers a big variety of possibilities to enjoy your leisure time to the fullest, go for sports and have a good time.
Thanks to the excellent position, Brunico is a great starting point for hiking excursions of any level of difficulty and all that amidst nature. But not only that! Here you don't find any sport, which is not practised: mountain biking, hiking, swimming, horse-riding, golf...
Brunico is part of the Dolomiti Superski – the superlative of a ski pass of 12 regions with 1.220 km of slopes. Top priority here is fun and pleasure, when skiing, cross-country, skating, snowboarding, sledge-riding or even taking guided tours through the ice valleys.
Since many years the Christmas market (Brunecker Christkindlmarkt) attracts thousands of visitors. Nobody is able to elude this cheerful and festive atmosphere.
Between the magnificent decorations, one can find a big offer of Christmas products, as well as typical needlework like lace pillows, woollen slippers, candles etc.
Enjoy this wonderful moment, accompanied by music and songs and be surprised by the string puppets theatre, nativity scenes and exhibitions of craftsmanship.
<<<
Stegona / Stegen (Brunico / Bruneck)
The Holiday Farm Unterrainerhof is located in the middle of the Pustertal, near the medieval town Bruneck (15 min. on foot), at the edge of forests, amidst beautiful mountains. Winter or summer, spring or autumn - every season has its special charm in this gorgeous environment.
deals
01/04 - 15/06/2023

70€ per night
Characteristics
Ameto / Amaten (Brunico / Bruneck)
Ameto and its marvelous surroundings. For those who love being active, for those who prefer relaxation and for dreamers! It seems as if time stands still, a stone's throw from the little medieval town of Brunico surrounded by its majestic mountains...
deals
01/04 - 17/06/2023

from 145€ per night

27/04 - 18/06/2023

from 390€ per week

17/09 - 29/10/2023

from 380€ per week

01/12 - 21/12/2023

from 296€ for 4 nights
Characteristics
Residence Alping is located in Bruneck, in the centre of the Skiing Resort Plan de Corones / Kronplatz. Bruneck is also the main town of the valley Pustertal/Val Pusteria in the Alps, a well renown place for both summer and winter holidays.
Villa Santa Caterina / Aufhofen (Brunico / Bruneck)
Situated on the sunny side of Bruneck, the house offers three lovely furnished apartments in Tyrolean style for families and groups of friends. It is located 1.5 km from the centre of Brunico and 6 km from the Plan de Corones skilifts, the city/ski bus stop is also very close.
Villa Santa Caterina / Aufhofen (Brunico / Bruneck)
The house in Villa Santa Caterina is situated 2km away from the town centre of Brunico and is a perfect starting point for beautiful hikes in Val Pusteria and its side valleys.
Stegona / Stegen (Brunico / Bruneck)
The Wochtla Buam is the active hotel of Markus, Manfred and Christoph Unterberger. The three brothers, who have always been called "Wochtla Buam" by the locals, are themselves the biggest fans of their home Bruneck in South Tyrol.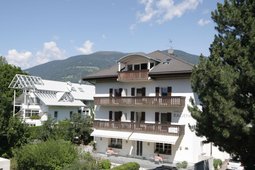 The Residence Haus Ragen welcomes you in the picturesque and medieval town of Brunico, in the heart of the green Puster Valley. The residence offers 2 types of apartments, furnished in a modern and comfortable style. The apartments boast a beautiful view on the castle of Brunico.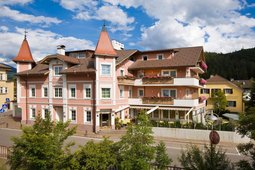 At Hotel Blitzburg in Bruneck you will find a familiar and comfortable atmosphere, embellished with beautiful colors combined with warm lights, simple architecture, walnut wood and stainless steel that will make your holiday perfect.
Stegona / Stegen (Brunico / Bruneck)
The Unterbergers are pleased to welcome you in the warm, tyrolean atmosphere of the Hotel Zum Hirschen! The carefully decorated restaurant serves tasty tyrolean dishes, as well as national and international dishes.
Stegona / Stegen (Brunico / Bruneck)
The hosting facility, located in Stegona, a suburb of Brunico, has three appartments. The ground-floor appartment has a kitchen with a table, dishes, TV, bathroom with WC, shower and bidet, towels, clothesline, two bedrooms (one with a double bed and the second with a sofa bed).