hotels and apartments
sport and leisure
localities
information

Your search
Perca / Percha: Hotels, B&B, Residence and holiday apartments
Perca / Percha tourist information
Perca, a community of approx. 1.400 inhabitants is situated in the beautiful valley of Pusteria. Reportedly the name Perca derives originally from the Perchah (hill / rivulet or birch). Extending over a very quiet and sunny area, between the 90 km long river Rienza, and surrounded by 2.500 m high alps and mountains, in a distance of approximately 5 km from Bruneco. This sunny place was already well known by the Romans, which is documented by a blank milestone directly in front of the church.
Nowadays, many centuries later, Perca has become a wonderful holiday resort, which attracts tourists from all over the world. >>><<<
With its local parts Montevila, Vila di Sotto, Vial di Sopra, Plata and Nessano, Perca is located very close to the nature-park Vedrette di Ries. Excursions in the nature reserve, amongst forests, mountain streams and cascades are overwhelming and will make your holiday most unique. Mountaintops, perpetual ice, plants like miniature weeping willows and primroses, as well as animals like eagle and peregrine falcon, all this and much more you will find here!
A truly nature miracle are the earth pyramids of Plata, which change every year into a different picture. This wonder of nature is convenient and easy to reach across lovely and long hiking trails.
This is a geological nature monument and its shapes are affected by the erosional patterns of alternating layers of hard and softer rocks. You will be astonished!
Perca and its neighbouring locations also offer nice bicycle tracks through the valley of Pusteria, nearly up to the borderline of Austria. You will find this picturesque spot only a few kilometres away from Plan de Corones, thus guaranteeing all winter tourists many sport possibilities such as alpine ski, Nordic ski, snowboard,... The magnificent toboggan run in Vila di Sopra offers exactly the right excitement for those, who would like to experience a ski run completely different.
<<<
The newly built Amanita apartment is located on the third floor of the north house and consists of an entrance hall, a double room with a 180 x 200 cm bed with double glazing towards the mountains, a second room with a 160 x 200 cm bed, bathroom with shower, kitchen area.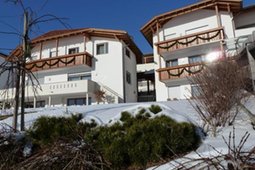 The newly built residence Sonnberg is situated in Percha, in a calm and sunny position, approximately 4km to Bruneck. The new lift Ried – Kronplatz is situated at 400m distance and is reachable in a few minutes by foot.
Vila di Sopra / Oberwielenbach (Perca / Percha)
Pleasure, relax and entertainment in South Tyrol! The small hotel Falkenstein is situated in the small sunny village of Vila di Sopra and offers a breathtaking view on the pretty nearby town of Brunico and the beautiful surrounding mountains.
The Hotel Miraval combines the intimate atmosphere of a family business with excellent service, pure and natural cuisine and all the amenities of a modern resort hotel. The quiet and unique location, with its panoramic views, guarantees relaxation and unforgettable moments... The holiday flat is located in Percha near Bruneck, with a view of the Kronplatz and the mountains of the Dolomites. The flat, which was completed in 2022, is therefore the ideal starting point for winter sports and summer activities in the Pustertal and the Dolomites.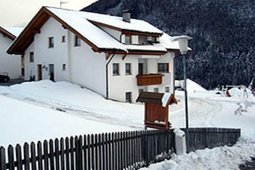 The newly built farm in Perca (located 4 km of Bruneck) is located on about 970 m in a peaceful and sunny position. It is perfectly placed amidst beautiful meadows with an amazing view of the Kronplatz, the famous ski resort. Your kids will love their holiday here! They can have...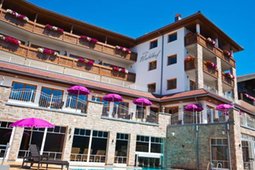 The Hotel Waldhof is a guarantee for relaxing holidays in the midst of an idyllic landscape. Your hotel in the skiing area Plan de Corones is located in a place where peace is all over. Here you will find rest and relaxation during long lasting days full of peace, far away from...